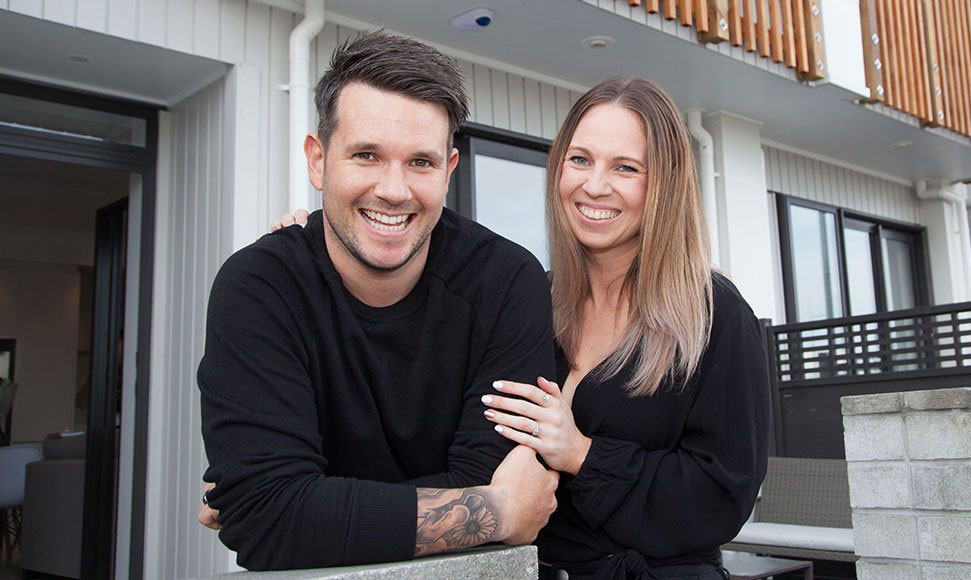 14 August 2017
Thousandth home milestone reached
HLC reached a milestone in the development of Hobsonville Point when the new owners took posession of the 1,000th home completed in the township last week. A further 630 homes are currently under construction.
The Minister for Social Housing, Amy Adams and the MP for Upper Harbour, Paula Bennett, dropped in to welcome the new owners and mark the occasion with HLC and our developer and builder partners.
Bryce and Alyssa Farrow bought the home off the plan a year ago through the Axis Series affordable homes programme for first home buyers. The couple say they feel lucky to have secured the one-bedroom home built by Jalcon, as they didn't think they were going to be able to afford their own house in Auckland. They lived with relatives while they were saving for their deposit as well as taking advantage of a KiwiSaver HomeStart grant.
At the event held to celebrate the milestone, HLC Chief Executive, Chris Aiken said the company was proud of the Axis Series programme, and being able to offer a range of types of homes ''below the median house price." So far more than 1400 homes have been sold at an average price of $730,000. Over 400 of these are Axis Series affordable homes, sold at or below $550,000.
In her address, Adams said Hobsonville Point demonstrated that liveable communities could be built in Auckland in a way that was achievable for people. ''It's not just about how many houses we are building – it's about the quality of communities we're creating. Raising the standard has flow-on effects far beyond Hobsonville.''
The $3.5 billion development is currently delivering around one new home a day for Auckland. With the 1,000th home completed and occupied, the township's now numbers 3,000 of an eventual 11,000 residents.